MUSING OUR CHILDREN:
READING AND WRITING APPRECIATION WEEK!
Mission Statement
As parents, teachers, and writers we need to band together and offer our young muses the advantages and understanding that reading and writing has to offer. The more people involved the better our chances in reaching a wider circle of children.

Get up to the minute BIZARRE happenings in Aleatory.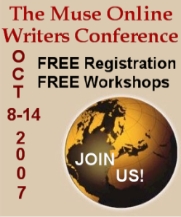 Link on the Conference banner to find out all about our FREE conference:
FREE registration
FREE workshops
FREE handouts
FREE ebooks
last year close to 1300 attended from around the world
Don't miss this opportunity!